MR.DIY Art Competition 2023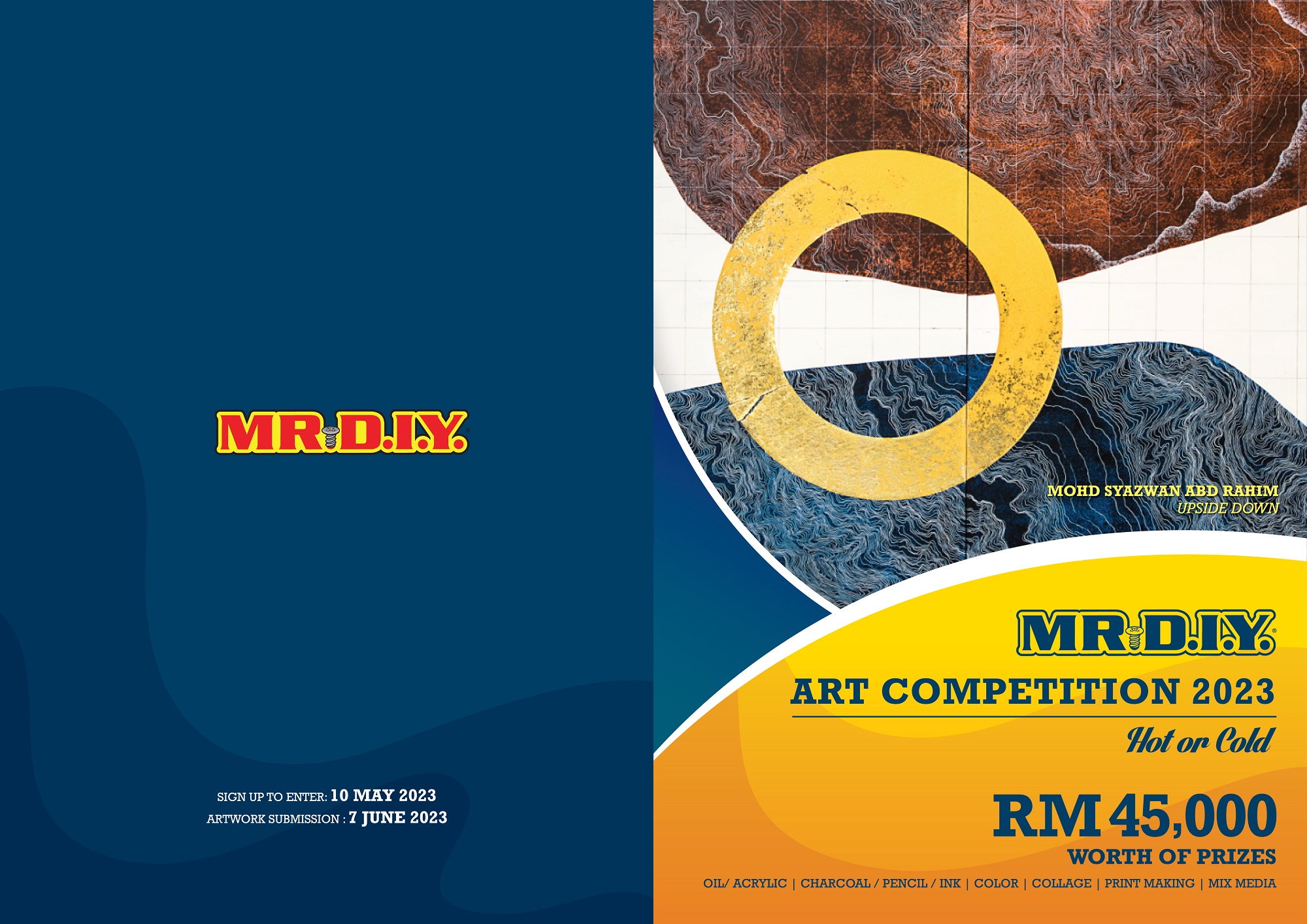 MR.DIY Art Competition 2023
The Theme:
"Hot or Cold"
Sign up / Entry Form Submission:


No later than

10 May 2023



Artwork Submission:
No later than
7 June 2023
Individual submission of artworks can be made via courier or dropped off to the below address:
MR D.I.Y. - Warehouse H,
1907, Jln KPB 11,
Kampung Baru Balakong,
43300 Seri Kembangan, Selangor.
Sign Up Now:
Download the Official Entry Form
Download the Art Competition Label
Rules & Regulations:


Open to all Malaysian citizens and permanent residents residing in Malaysia. Candidates aged 18 years old and below must obtain prior permission from a parent and/or legal guardian.

2. Official Entry Forms
All participants are required to fill in and submit the Official Entry Form which can be obtained from our website. Participants must submit the Official Entry Form to the Organizer (via email to [email protected]) not later than 10 May 2023. For any additional queries, please send your queries to the above said email.

3. Dates
Submission of the Official Entry Form indicates your interest to participate in this competition. Your participation commences upon submission of the Official Entry Form.
Thereafter, participants are required to submit their completed artworks to the Organizer not later than 7 June 2023.
Submission of Official Entry Forms and/or artwork after the stipulated date will not be considered for participation.

4. Objectives
The objectives of the competition are:
- to promote and cultivate an appreciation for our Malaysian art; and
- to provide emerging talents with a platform to showcase their abilities to a wider audience.

5. The Theme
The theme of this year's competition is "Hot or Cold" in which young and emerging artists will be given the opportunity to produce art which best interprets and conveys the theme of the competition.
The first thing that comes to mind when we mention 'hot or cold' is the state of being. Feeling hot or cold. However, 'hot or cold' can also take on greater depth, expression or context. It can signify deeper connections and emotions. Day or night. Life or death. Beyond its use in literature or descriptive language,' hot or cold' also has climate change and environmental implications. With this in mind, we invite artists to evoke and represent their thoughts, interpretations, forms and creative expressions on the topic of 'hot or cold', and translate them onto a canvas. 'Hot or cold' is a simple theme yet one that holds many layers of abstract meaning.
We look forward to welcoming your submissions. Upon submission, please provide a short statement to explain/describe your art work (no more than 200 words).

6. Conditions
The artwork submitted by the participant must be an original work that has not been previously exhibited, published, reproduced or shown in any manner whatsoever and shall strictly conform to the requirements set out in paragraph 6. Paintings, drawings, prints, mixed media constructions are all accepted. At this moment, digital art, photo- graphs, video or sound art will not be accepted.
Participants are encouraged to use creativity, imagination, own photographs or sketches and onsite work. Participants will be judged on the use of medium and technical skill demonstrated, creativity, expression, originality, techniques and work which convey their message clearly.
All artwork must be in 2-dimensional form. Framing is not encouraged.

7. Media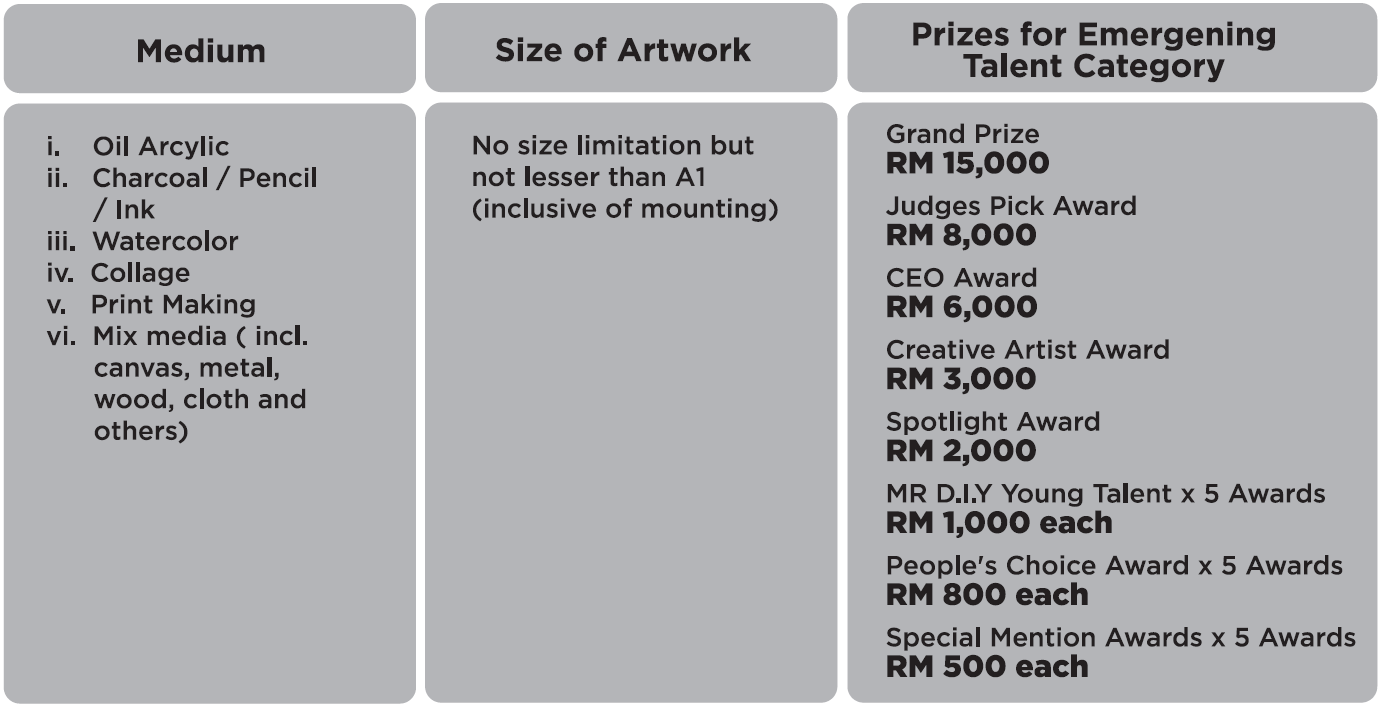 * Includes print, lino, woodcut, silkscreen, etching, dry point, photo silk screen, litho cut, aquatin print, tint or emboss print.
8. Rights of the Organizer
Incomplete, late entry forms and artworks that do not comply with the Rules and Regulations shall be disqualified. All decisions made by the respective educational institutions and/or the Organizer with regard to this competition shall be final. The Organizer reserves the right to vary, modify and/or amend any of these Rules and Regulation at any time. Ownership of winning artworks shall rest on the Organizer, who shall
thereafter have the exclusive right to retain, publish or exhibit the artworks. On completion of the competition, the Organizer may at their absolute discretion, select and/or commission participants of the competition to produce further artworks on terms to be decided thereat.
The Organizer reserves the absolute right to cancel or postpone the competition at any time without any notice and without any liability whatsoever to whosoever.

9. Judging Procedure
As this is a National Level art competition, the Organizers would like to highlight that all artworks submitted by students from Kuala Lumpur/Selangor, Penang and other states will be judged on a single national judging platform.
The preliminary and final judging of artworks will be conducted on a National Level where the judging process will be held at a venue to be decided.
Each educational institution may only submit a maximum of 200 pieces of artwork for appraisal.
Judges for the final round of judging will be appointed by the Organizer. The decision of the judges shall be final and binding on all participants.

10. Prize Giving Ceremony
A single official prize presentation ceremony will be held in Kuala Lumpur at a stipulated date and venue where winners will be invited to attend.
In the event of any breach of these Rules and Regulations, the Organizer is entitled to the return of all Prizemonies awarded to the selected winners including any costs, expenses and/or damages incurred or suffered in recovering the same.
Outstation winners will arrange for their own transportation and accommodation accordingly.
One representative from each participating college will also be invited
to attend the prize giving, with similar
accommodation and transport arrangements as stated above.

11. Exclusion
All employees of the Organizer and their immediate family members shall not be entitled to participate in this competition.

12. No Waiver
No failure or delay by the Organizer in exercising or enforcing any of the Rules and Regulations herein shall operate as a waiver of such power, right or provision nor shall the knowledge or acquiescence of the Organizer hereto of any breach of the Rules and Regulations constitute a waiver of the Rules and Regulations.

13. No Publicity
Participants shall not now or after the competition publicize or make available in any medium including newspapers, magazines, television or radio their artworks or copies thereof, unless it is with the written consent of the Organizer.