100 Christmas Gift Ideas at MR.DIY
Finding the best Christmas presents for family and friends can be stressful. Luckily, MR.DIY has sourced a wide range of afforable Christmas gifts for Him, Her, and everyone else. So sit back, and read on because you will be spoiled for choice having to find your perfect Christmas gift at MR.DIY!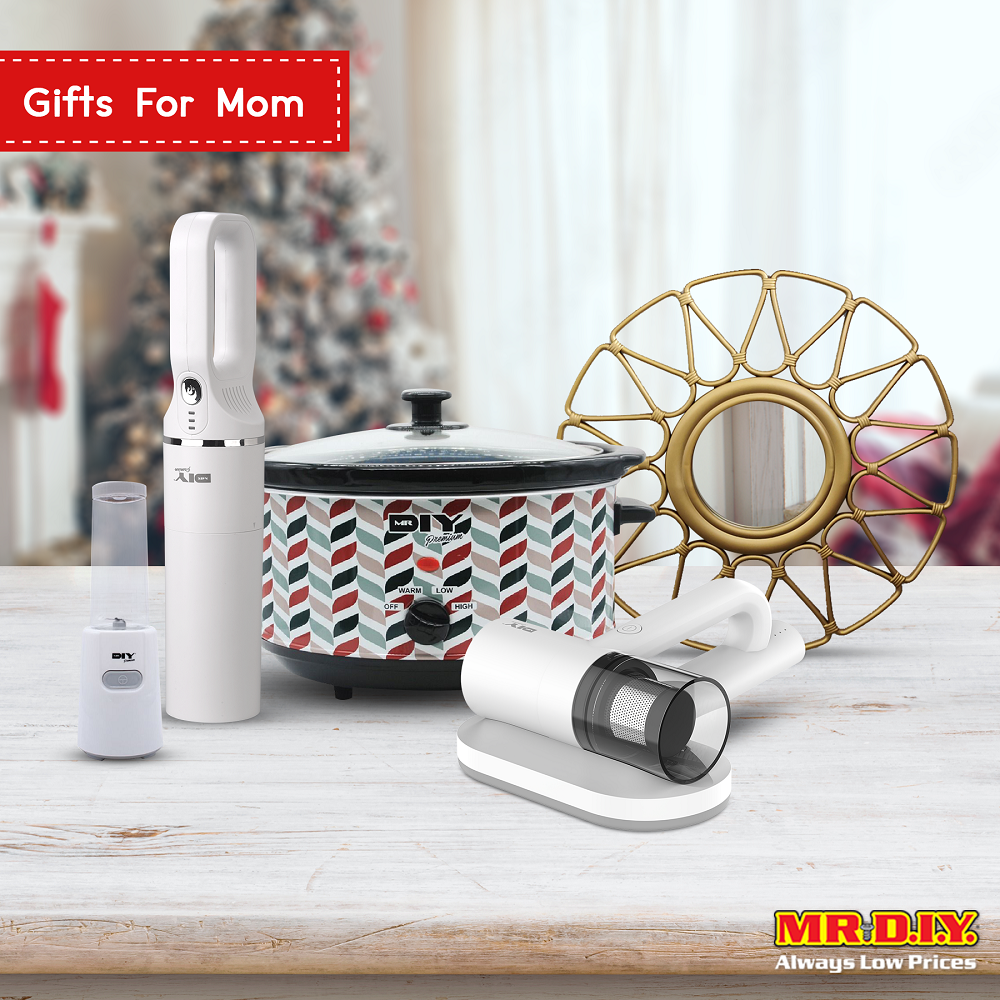 Gifts for Mom
Getting a thoughtful and useful gift for your mom this Christmas to make her feel loved. For example, you could get her a vacuum cleaner to ease her chores. But what's better than a vacuum cleaner? Offering help to do the house chores! Earn yourself a "Favorite Child" status and put a big smile on her face this Christmas.

What's in the Photo:
MR.DIY Brand Anti-Dust Mite UV Vacuum - 9024123

RM155.00
Premium Hand Blender Set - 9023439

RM105.00
PREMIUM Slow Cooker 3.5L NSC-350 - 9023536

RM69.00
Blender (350ml) - 9023274

RM49.00
More suggestions:

MR.DIY Brand luxurious-looking curtains (9038470-9038472) / MR.DIY USB Cordless Vacuum Cleaner (9024129) / Mini Food Processor (9024088) / MR.DIY Brand melamine dinnerware (8802714-8802722) / Glass Jewelry Case (8802536) / MR.DIY Brand Storage Rack (976337-8976339) / Metal Basket (9047661) / MR.DIY Brand Air Fryer (9024124) / Artificial Sunflower (9047997) / Wooden Light Night Love (9047333)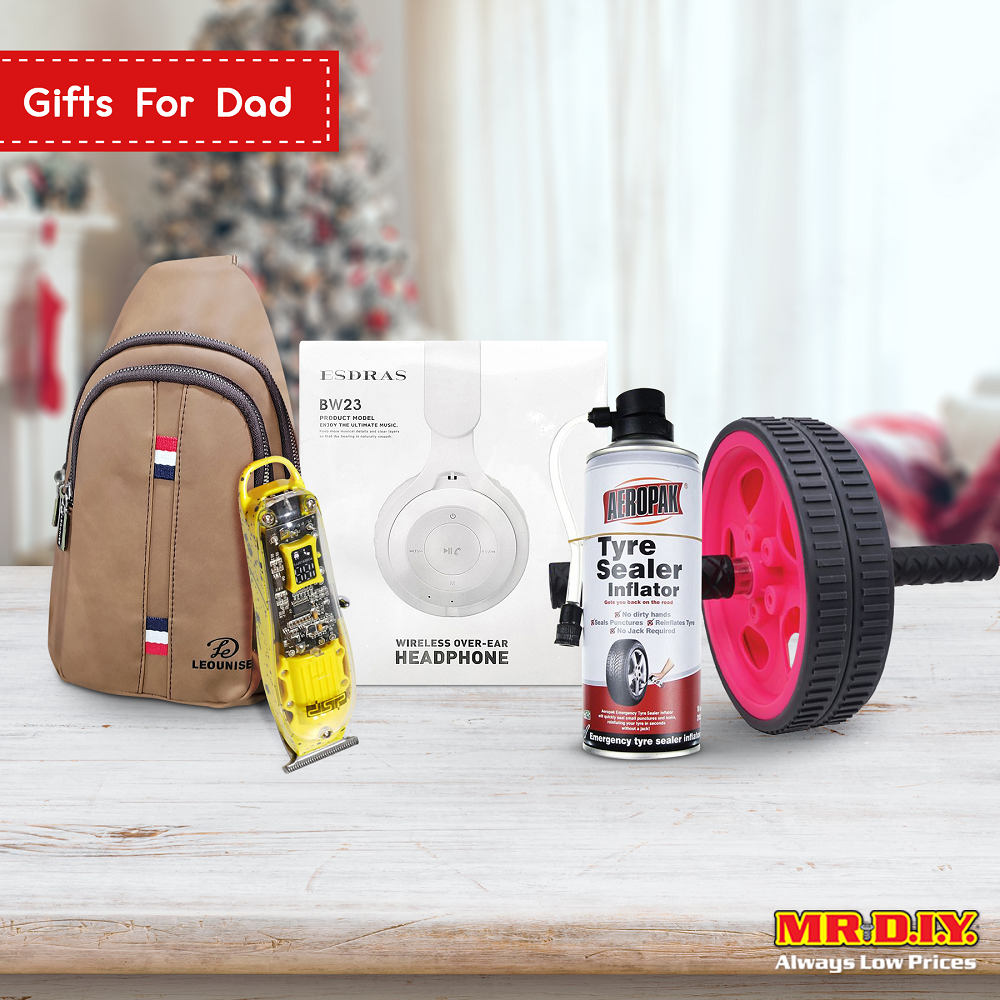 Gifts for Dad
Sourcing a perfect gift for dad could really scratch your head. We are here to help you to gather a list of gifts to impress your dad. Whether he's a fitness enthusiast, a handyman, or outdoorsy type, there will definitely be something that fits his needs on our list.


What's in the Photo:
Digital Hair Trimmer - 9024171

RM85.00
Chest Bag - 9036726

RM36.80
Wireless Over-ear Headphone - 8994068

RM33.00
AEROPAK Tyre Sealer Inflator - 9001988

RM11.50
Exercise Wheel Roller Cross Training Equipment - 8951201

RM23.90

More suggestions:
MR.DIY Brand Toolbox (9077840) / MR.DIY Brand Pedal Resistance Band (8953474) / Car Shampoo (9001240) / MR.DIY Brand Arm Support (8950550) / Water Bottle (8976380) / Aeropak Removable Rubber paint (9002478) / Waxco Scratch Remover (9930066) / Car Accessories (9003767 - 9003775) / Car Dash Cam (8993828) / Steering Cover (9002974)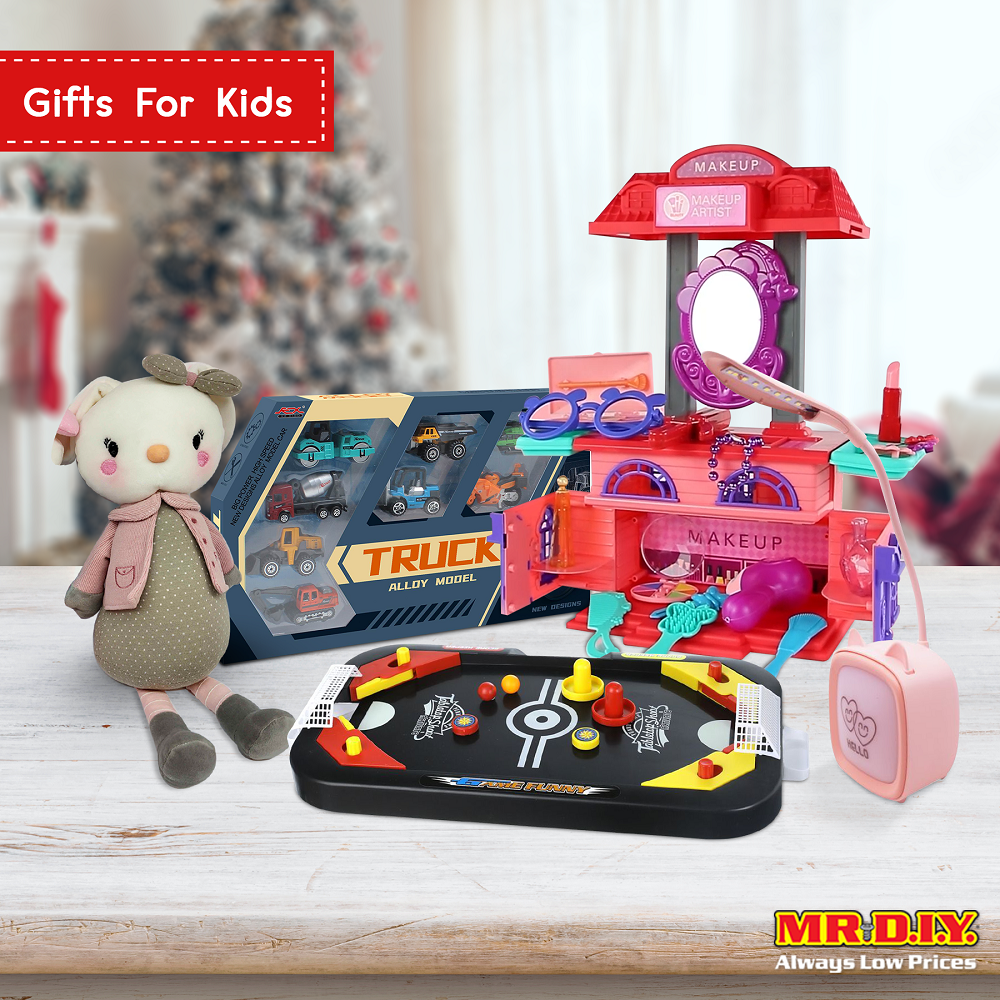 Gifts for Kids
The best part of getting kids a gift is seeing his or her excitement upon tearing the gift-wrapping paper. However, the gift must be attractive too to last their excitement. We have listed out some of our toys and gifts ideas for your kids to help them learn while playing.


What's in the Photo:
Die-cast Vehicle Set - 8961529

RM43.00
House Storage Playset - 8961491

RM55.00
Plush Toy (23cm) - 8961295

RM24.90
DI HONG Tabletop Shoot Activate Toy 2 In 1 - 9013235

RM20.90
USB Cute LED Desk Lamp - 9023386

RM13.10

More suggestions:
Cash Register PlaySet (9017836) / Electric Keyboard Toy with Microphone (9017366) / Beginner Kids Scooter Outdoor (8960468) / Super Sport Racing Set Car Toy (8960394) / Suitcase Play House Set (9019895) / Dinosaur Bite Game (4900674)
/ Dual Function Gun (9019961)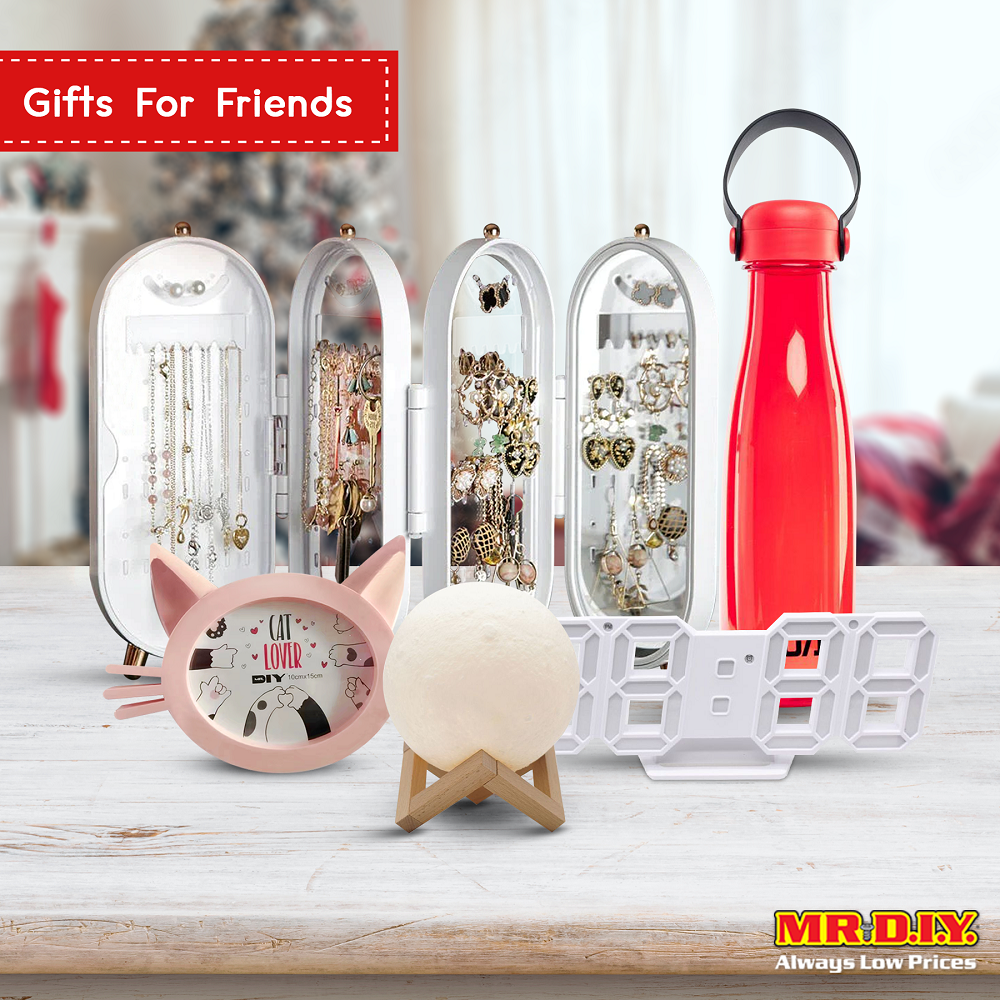 Gifts for Friends
Even if you know your BFF better than anyone else, it can be hard to surprise them with a gift that captures his or her personality perfectly. Show them how deep you appreciate them this Christmas with our gift ideas!


What's in the Photo:
Cat Photo Frame - 9047989

RM2.20
MR.DIY Foldable Jewelry Box - 8802621

RM21.50
USB Moon Lamp - 9023229

RM36.30
FGA Water Bottle (600ml) - 9069913

RM5.30
Electronic Alarm Clock 3638L - 9023366

RM34.50

More suggestions:
MR.DIY Tote Bag and Backpack (9038473-480) /3 Tier Storage Rack (8974710) / MR.DIY 5 In 1 Travel Bag (2910005) / Garlic Chopper (8975975) / MR.DIY Multi Layer Compartment Cometics Box (9047023) / Desk Storage Basket (8951915) / MR.DIY Brand Extendable Squeegee (8976301) / MR.DIY Brand Food Storage Container 4in1 (8976385) / MR.DIY Premium 1.7L Electrical Kettle (9023352) / Water Bottle (8974149) / Glass Jar Dispenser (8801632) / LED Desk Night Lamp (9023202) / Gold Photo Frame (9740437)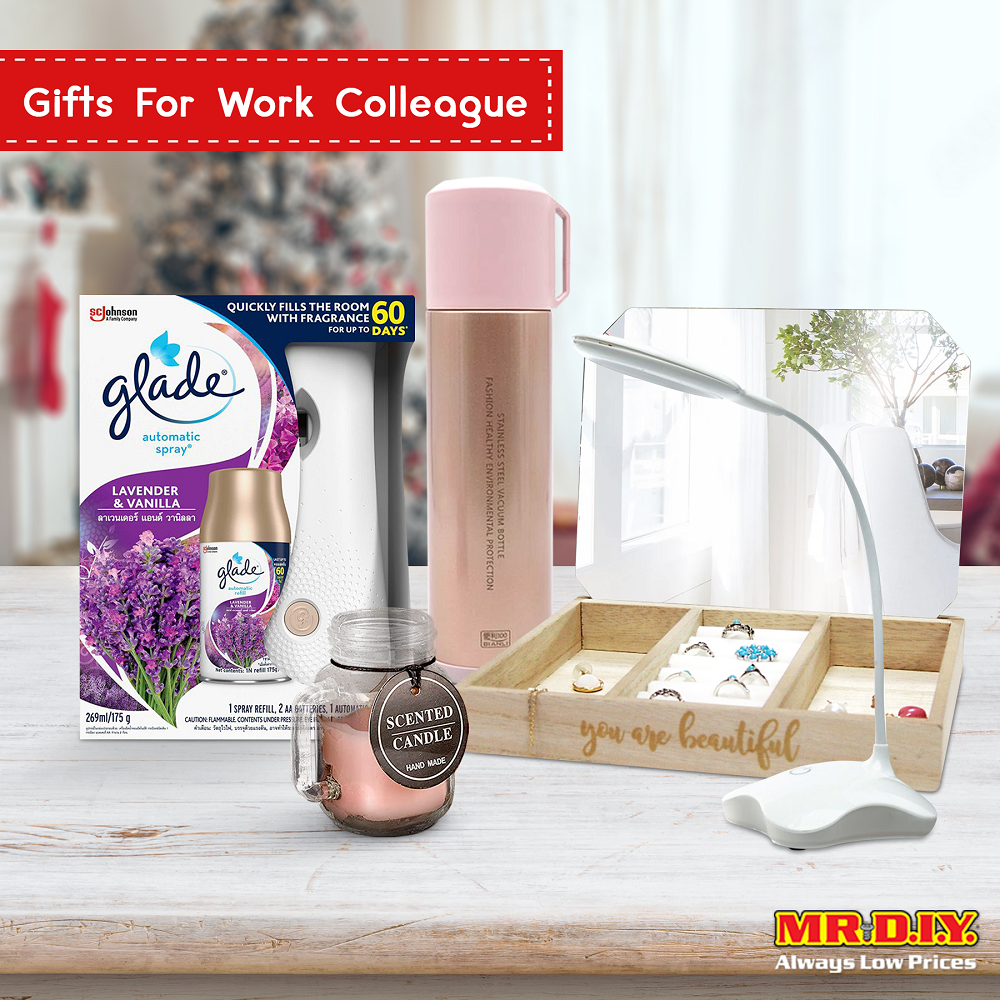 Gifts for Work Colleague
Spending 9 to 6 everyday with your work colleagues every day, you might want to find a great gift within your budget to show them they are valued and special during this Christmas. Let's get a gift from our wide range of selections now for your "most than just colleague" buddies.


What's in the Photo:
Glass Scented Candle (7.5x3.7cm) - 8802488

RM2.20
Vacuum Flask Thermos - 8971244

RM33.00
Jewelry Box - 8802007 -

RM19.90
GLADE Automatic 3 In 1 Spray Lavender & Vanilla Starter Kit 175g - 9160751

RM28.00
Led Usb Table Lamp - 9022739

RM14.40

More suggestions:
Cable Organizer (8976476) / Deco Painting Frame (9047801) / Artificial Plant With Pot (9046850) / Tumbler (8976451) / 2 Layer Rotating Rack (8975979)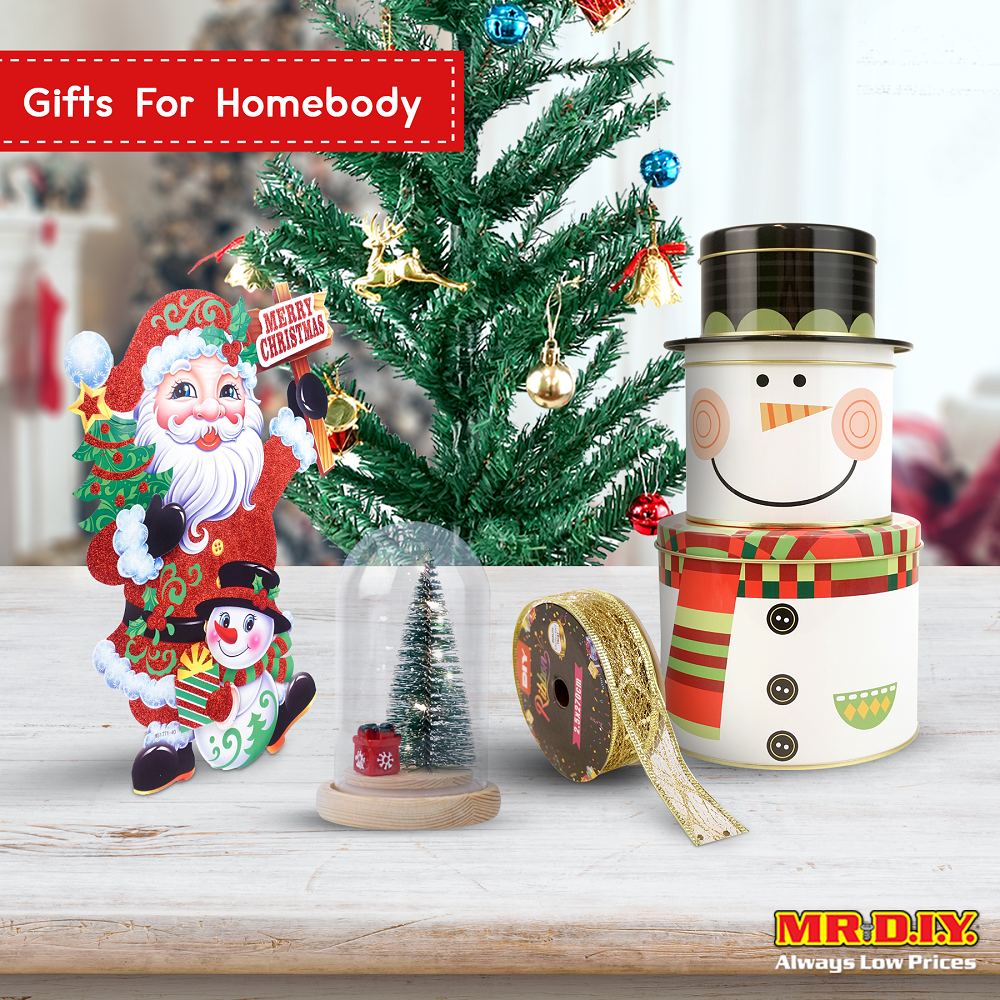 Gifts for Homebody
Help someone decorate their home and spread a magical little Christmas cheer to their lives. MR.DIY has a variety of Christmas decorations that will suit anyone's home and make it beautifully festive.

What's in the Photo:

Christmas Tree (120cm) - 8731603

RM15.90

RM8.90
Christmas LED Mini Tree (24cm) - 8802664

RM25.90
Christmas Decor Sticker (40x30cm) - 8731585

RM4.90
Christmas Ribbon (2.5cm x 2.7m) - 8731392

RM2.50
Christmas Decor - 8730882

RM4.30

More Suggestions:
Christmas Mini Tree (8731522) / Christmas Flower Decor (8731449) / Christmas Santa Tin Box (8731306) / Christmas LED Warm Light (8731399) / Christmas Craft Candle (8731366)/ Christmas Warm LED Light (8731407) /
Christmas LED Santa Snow Sleigh (8731375) /
Christmas LED Lantern (8731318) /
Christmas Crystal Ball (8802638) /
Christmas Window Sticker (8731386) /
Christmas LED Train Lantern (8731326) /
Christmas LED Tunnel Light Lamp (8731412) /
Christmas Tie (8731353) /
Christmas Earmuffs (8731087) /
Christmas LED Musical Ball (8802641) /
Christmas Spectacles (8731337) /
Christmas Hat (8731213) / Christmas Door Knob (8731434) / Christmas Decor (8731227) / Christmas Decorative Socks (8731349) / Christmas Ball Mix (8730737) / Christmas Artificial Decor (8731458) / Christmas Wreath (8731236) / Christmas Tinsel Garland (8731515) /
Christmas Mini Greeting Card (5pcs)(8731303)