MR.DIY Grand Opening Event Spend & Win Contest 2023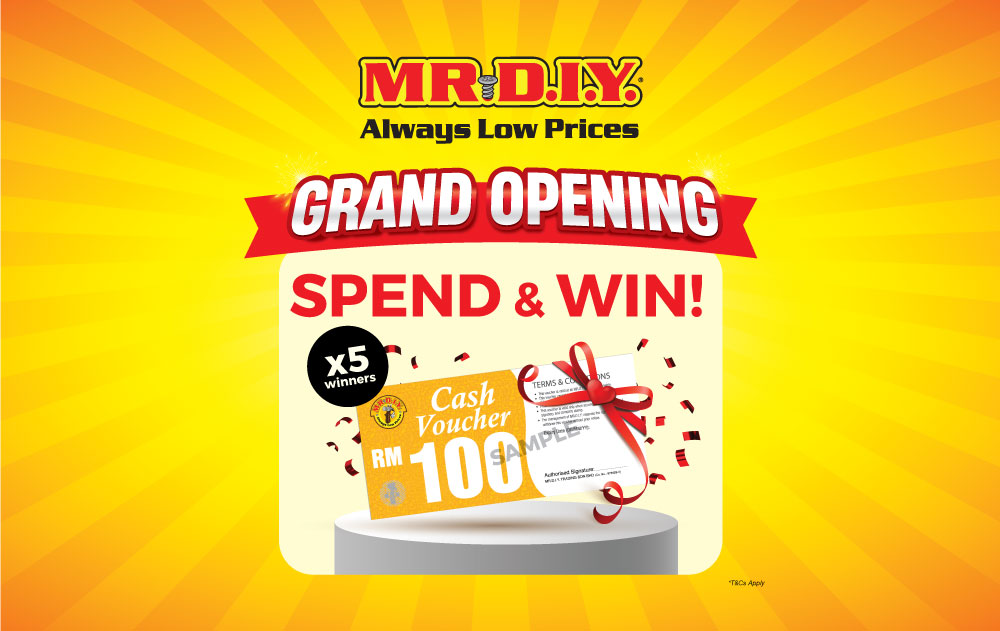 MR.DIY Grand Opening Event Spend & Win Contest 2023

Spend during our Grand Opening event at selected MR.DIY outlet and stand a chance to win MR.DIY voucher.
This contest is only valid for newly opened stores with a grand opening event.
Terms and Conditions (EN):

The duration of MR.DIY 'Spend & Win' Contest is 48 hours starting from the Grand Opening date announced by the Organiser ["the Contest Period"]. MR.DIY Group (M) Berhad ("Organiser") reserves the right to shorten or extend the Contest Period without prior notice. All entries received outside the Contest Period shall be automatically disqualified.

This Contest is open to all citizens and permanent residents of Malaysia above 18 years of age except the employees and immediate families of the Organiser, including its affiliated and/or related companies, distributors, dealers, advertising and promotion agencies.

To participate in the Contest:

Participants must spend within the Contest Period at the selected MR.DIY outlet with any purchase.

Scan the QR code and complete the online form by answering the question, filling in all the empty fields and clicking on submit.

Retain original single receipt dated within the Contest Period that matches the online entry as proof of purchase.

Participants may send as many entries as they wish BUT each entry must be accompanied with the required details and a different receipt for each entry.

Participants are not allowed to submit/send more than one (1) entry with the same receipt to the Organiser.

Each Contest day during the Contest Period, the Contest begins at 10:00 am and ends at 10:00 pm.

The Organiser will not reimburse the participant for any charges incurred in submitting the entries, if any.

Selection of winners:

The eligible winner will be determined by the total number of qualified entries received during the Contest Period divided by 5. For example, if the total number of qualified entries received is 800, then this number will be divided by 5 and rounded to the nearest lower whole number which is 160. Hence the 160th, 320th, 480th qualified entries and so on will be shortlisted and stand to win a prize each. In the event the shortlisted entry is disqualified, the next eligible earlier entry received will be the replacement winner, for example, the replacement winner for the 160th qualified entry is the 159th qualified entry.

The eligible prize winners will be contacted via telephone and may be required to do identity card verification before being declared a winner. Should the first attempt to contact the eligible winner fail, for example, no reply, telephone number not in service or no connection, etc, another two (2) attempts will be made within the next twenty-four (24) hours of the first telephone call. Where such further attempts are unsuccessful, the Organiser reserves the right to disqualify the eligible winner and thereafter select the next qualified participant. The Organiser will not be held liable in the event the winners cannot be contacted for whatever reasons. In the event the eligible winner fails to provide the personal information correctly, the Organiser reserves the right to disqualify the eligible winner and find another eligible winner as a replacement.

The eligible prize winners may be required to submit by Pos Laju/courier all the original printed receipts dated within the Contest Period that match all the entries and a copy of their NRIC within three (3) working days from the date of notification as proof of purchase. Failing which, the Organiser reserves the right to disqualify the eligible winner.

Only original and valid printed receipts will be accepted. Any receipt that is illegible, mutilated, altered, duplicated, tampered with, not obtained legitimately, contains printing typographical, mechanical or other errors or the printing is unclear or does not contain the required information is invalid and will not be accepted. The Organiser reserves the sole discretion and rights to disqualify such invalid receipts.

Contest prizes:

Prizes x 5: RM100.00 MR.DIY voucher each.

Voucher validity is as per the date stated on the voucher and must be redeemed within the period before the voucher expires.

The voucher is valid only when accompanied by an authorized signatory and company stamp.

Each participant is only allowed to win one prize throughout the Contest Period.

All prizes must be claimed at winners' own expense within sixty (60) days after the date of notification of winnings. All unclaimed prizes will be forfeited by the Organiser.

The participant is required to produce a proof of identity during or prior to prize redemption for purposes of verification. The only forms of proof of identity accepted by the Organiser are Malaysian identity card or driver's license. A failure to provide any proof of identity entitles the Organiser to disqualify the participant/winner.

The Organiser reserves the absolute right to substitute any prize with that of similar value at any time without prior notice. All prizes are not transferable, refundable or exchangeable in any other form for whatever reason. The value of the prize is correct at the time of printing. All prizes are given on an "as is" basis. The Organiser will not be responsible if the prize is damaged after it is received by the winner.

The Organiser is not responsible or liable for any error, omission, interruption, deletion, defect, delay in operation or transmission, communications line failure, theft or destruction, unauthorized access to, or alteration of, user or member communications, or any problems or technical malfunction of any telephone network or lines, computer online systems, servers or providers, computer equipment, software, failure of email on account of technical problems or traffic congestion on the internet and/or websites.

Participants shall assume full liability and responsibility in case of any accident, injury, damage or claim resulting from participation in this Contest.
DATA PROTECTION AND PRIVACY POLICY NOTICE
By participating in this Contest, participants consent to give their personal information and the Organiser reserves the right to publish, use the winners' names and/or photographs plus their entries for purposes of publicity, advertising and/or trade without further compensation or notice and each participant is not entitled to make any claims for the use of their entries by the Organiser.

The Organiser collects personal identifiable information to provide services or to correspond with the participant. This information is stored in a manner appropriate to the nature of the data by the Organiser and is used to fulfil the participant's request(s). By submitting the participant's personal information, the Organiser deems that permission is given to the Organiser and/or its authorised agents to use this information for the purpose of present and future marketing and promotional purposes and to improve its products and services. If the participant informs the Organiser via the Careline at 03-89611338 that the above information should not be used as a basis for further contact, the Organiser will respect the participant's request. The participant's information will not be provided or shared with other companies for their use.

By participating in this Contest, participants agree to be bound by the official Terms and Conditions and decisions of the Organiser.

The Organiser reserves the rights to amend, delete or add to these Terms and Conditions without any prior notice at any time and the participants shall be bound to such changes.

The Organiser's decision is final. Any correspondence pertaining to the decision made by the Organiser will not be entertained.

The Contest Terms and Conditions are available in English and Bahasa Malaysia. In the event of inconsistencies of the language used, the English language version of the contest Terms and Conditions shall prevail.
Terms and Conditions (BM):


Tempoh peraduan MR.DIY, 'Belanja & Menang' adalah 48 jam bermula dari tarikh Pembukaan Rasmi yang diumumkan oleh Penganjur["Tempoh Peraduan"]. MR.DIY Group (M) Berhad ("Penganjur") berhak untuk memendekkan atau memanjangkan Tempoh Peraduan tanpa memberi sebarang notis terlebih dahulu. Semua penyertaan yang diterima di luar Tempoh Peraduan akan dibatalkan secara automatik.

Peraduan ini terbuka kepada semua rakyat dan pemastautin tetap Malaysia yang berumur 18 tahun ke atas kecuali kakitangan Penganjur dan ahli-ahli keluarga terdekat mereka, termasuk syarikat-syarikat gabungan dan/atau berkaitan, pengedar-pengedar, agensi-agensi pengiklanan dan promosi pihak Penganjur.

Untuk menyertai Peraduan:

Peserta mesti berbelanja dalam Tempoh Peraduan di kedai terpilih MR.DIY dengan sebarang pembelian.

Imbas kod QR dan lengkapkan borang penyertaan dalam talian (online) dengan menjawab soalan, isikan semua ruang kosong dan klik hantar.

Simpan resit yang asal bertarikh dalam Tempoh Peraduan yang sepadan dengan penyertaan dalam talian (online) sebagai bukti pembelian.

Para peserta boleh menghantar seberapa banyak penyertaan yang diingini TETAPI setiap penyertaan mesti disertakan dengan butiran yang diperlukan dan resit tunggal yang berlainan bagi setiap penyertaan.

Para peserta tidak dibenarkan untuk menghantar lebih daripada satu (1) penyertaan dengan resit tunggal yang sama kepada pihak Penganjur.

S

etiap hari sepanjang Tempoh Peraduan, Peraduan akan bermula pada pukul 10:00 pagi dan berakhir pada pukul 10:00 malam.

Pihak Penganjur tidak akan membayar balik kepada Peserta apa-apa caj yang dikenakan untuk menghantar penyertaan, jika ada.

Cara pemilihan pemenang:

Pemenang Hadiah yang layak ditentukan oleh jumlah penyertaan layak yang diterima sepanjang Tempoh Peraduan dibahagikan dengan 5. Sebagai contoh, jika terdapat sebanyak 800 penyertaan layak diterima, nombor ini akan dibahagikan dengan 5 dan dibundarkan kepada nombor bulat paling dekat yang lebih rendah, iaitu 160. Maka penyertaan layak ke-160, ke-320, ke-480 dan seterusnya akan disenarai pendekkan dan layak memenangi hadiah setiap satu. Jika penyertaan yang disenarai pendekkan dibatalkan kelayakannya, maka penyertaan seterusnya yang terdahulu diterima akan menjadi pemenang layak gantian, sebagai contoh, pemenang layak gantian untuk penyertaan layak ke-160 adalah penyertaan layak ke-159.

Para pemenang yang layak akan dihubungi melalui telefon dan mungkin diminta untuk membuat pengesahan kad pengenalan sebelum boleh disahkan sebagai pemenang. Sekiranya peserta tidak dapat dihubungi pada cubaan pertama, contohnya, tidak menjawab telefon, nombor telefon tiada dalam perkhidmatan, tiada sambungan, dan lain-lain, dua (2) cubaan lain akan dibuat lagi dalam tempoh dua puluh empat (24) jam yang berikutnya selepas cubaan pertama. Sekiranya percubaan-percubaan ini tidak berhasil, pihak Penganjur berhak untuk membatalkan kelayakan pemenang dan memilih pemenang layak seterusnya. Pihak Penganjur tidak akan bertanggungjawab sekiranya peserta-peserta tidak dapat dihubungi atas sebarang sebab. Sekiranya peserta gagal mengemukakan butiran peribadi dengan betul, pihak Penganjur berhak untuk membatalkan kelayakannya dan memilih peserta seterusnya sebagai pemenang gantian.

Para pemenang yang layak mungkin dikehendaki menghantar melalui Pos Laju/kurier semua resit bercetak asal bertarikh dalam Tempoh Peraduan yang sepadan dengan semua penyertaan dan salinan kad pengenalan mereka dalam tempoh tiga (3) hari bekerja selepas tarikh pemberitahuan sebagai pengesahan bukti pembelian. Sekiranya gagal, pihak Penganjur berhak untuk membatalkan kelayakan pemenang layak tersebut.

Hanya resit-resit bercetak yang asal dan sah akan diterima. Resit-resit yang sukar dibaca, rosak, diubah, disalin semula, diperolehi secara tidak sah, tersalah cetak dan/atau tidak mengandungi maklumat yang diperlukan adalah tidak sah dan tidak akan diterima. Pihak Penganjur mempunyai budi bicara mutlak dan hak untuk membatalkan kelayakan resit-resit tidak sah tersebut.

Hadiah-hadiah Peraduan:

Hadiah x 5: RM100.00 MR.DIY baucar setiap satu.

Kesahan baucar mengikut tarikh yang dinyatakan pada baucar dan mesti ditebus dalam tempoh sebelum baucar tamat.

Baucar hanya sah apabila disertakan dengan penandatangan yang dibenarkan dan cop syarikat.

S

etiap peserta hanya layak untuk memenangi satu (1) hadiah sepanjang Tempoh Peraduan.

Kesemua hadiah mesti dituntut atas perbelanjaan pemenang sendiri dalam tempoh enam puluh (60) hari selepas Tempoh Peraduan. Hadiah-hadiah yang gagal dituntut akan dilupuskan oleh pihak Penganjur.

P

eserta dikehendaki untuk mengemukakan bukti pengenalan diri semasa atau sebelum penuntutan hadiah sebagai pengesahan. Bentuk-bentuk bukti pengenalan diri yang diterima oleh pihak Penganjur adalah kad pengenalan atau lesen memandu Malaysia. Pihak Penganjur berhak untuk membatalkan kelayakan peserta/pemenang atas kegagalan dalam mengemukakan bukti pengenalan diri.

P

ihak Penganjur berhak atas budibicara mutlaknya untuk menggantikan mana-mana hadiah dengan hadiah-hadiah lain yang sama nilainya pada bila-bila masa tanpa sebarang notis. Semua hadiah tidak boleh ditukar milik, tidak boleh dikembalikan dan tidak boleh ditukar untuk apa-apa format atas sebarang sebab. Nilai hadiah adalah betul pada masa pencetakan. Semua hadiah diberikan dalam 'keadaan sedia ada'. Pihak Penganjur tidak akan bertanggungjawab sekiranya hadiah rosak setelah diterima oleh pemenang.

Pihak Penganjur tidak akan dipertanggungjawabkan untuk sebarang kesalahan, peninggalan, gangguan, penghapusan, kerosakan, kelewatan operasi atau penghantaran, kegagalan talian komunikasi, pencurian atau pemusnahan, akses tanpa izin atau perubahan ke komunikasi pengguna atau anggota atau apa-apa masalah atau kerosakan teknikal mana-mana rangkaian atau talian telefon, sistem dalam talian komputer, pelayan atau penyedia, peralatan komputer, perisian, kegagalan emel kerana masalah teknikal atau kesesakan lalu lintas di internet dan/atau laman web.

Para peserta akan menanggung liabiliti dan tanggungjawab sepenuhnya jika berlaku sebarang kemalangan, kecederaan, kerosakan atau tuntutan akibat penyertaan di dalam Peraduan ini.

NOTIS PERLINDUNGAN DATA DAN POLISI PRIVASI
Dengan menyertai Peraduan ini, para peserta memberi keizinan untuk memberi maklumat peribadinya dan pihak Penganjur berhak menyiarkan, menggunakan nama dan/atau gambar pemenang serta penyertaan mereka untuk tujuan publisiti, pengiklanan dan/atau perdagangan tanpa sebarang bayaran pampasan mahupun pemberitahuan dan setiap peserta tidak berhak membuat sebarang tuntutan ke atas penggunaan penyertaan tersebut oleh pihak Penganjur.

Pihak Penganjur mengumpul maklumat peribadi yang boleh dikenal pasti untuk memberi perkhidmatan-perkhidmatan atau untuk berhubung dengan peserta. Maklumat ini disimpan oleh pihak Penganjur dalam kaedah yang sesuai dengan data tersebut dan digunakan untuk memenuhi permintaan peserta. Dengan mengemukakan maklumat peribadi peserta, pihak Penganjur menganggap bahawa keizinan telah diberi kepada pihak Penganjur dan/atau agen-agen yang dilantik olehnya untuk menggunakan maklumat ini untuk tujuan pemasaran dan promosi yang kini dan di masa hadapan serta untuk menambahbaikan produk-produk dan perkhidmatannya. Sekiranya peserta memaklumkan pihak Penganjur melalui talian pelanggannya di 03-89611338 bahawa maklumat tersebut tidak patut digunakan sebagai asas untuk hubungan seterusnya, pihak Penganjur akan menghormati permintaan peserta. Maklumat peserta tidak akan diberi atau dikongsi dengan syarikat-syarikat/rakan-rakan lain untuk kegunaan bebas mereka.

Dengan menyertai Peraduan ini, para peserta bersetuju untuk terikat dengan Terma dan Syarat rasmi serta segala keputusan pihak Penganjur.

Pihak Penganjur berhak untuk meminda, membatal atau mengubahsuai Terma dan Syarat ini tanpa memberi sebarang notis terlebih dahulu pada bila-bila masa dan para peserta akan terikat dengan perubahan tersebut.

Keputusan pihak Penganjur adalah muktamad. Sebarang surat-menyurat mengenai keputusan yang dibuat oleh pihak Penganjur tidak akan dilayan.

Terma dan Syarat Peraduan disediakan dalam Bahasa Inggeris dan Bahasa Malaysia. Sekiranya terdapat percanggahan di antara versi-versi tersebut, Terma dan Syarat versi Bahasa Inggeris akan diguna pakai.