MR.DIY X GL Play Parks 15% GWP 2023


MR.DIY X GL Play Parks 15% GWP 2023


Spend a minimum of RM40 in a single receipt to get GL Play Parks 15% discount voucher.
Campaign Period:
10 June - 30 September 2023
Voucher Validity:
10 June - 31 December 2023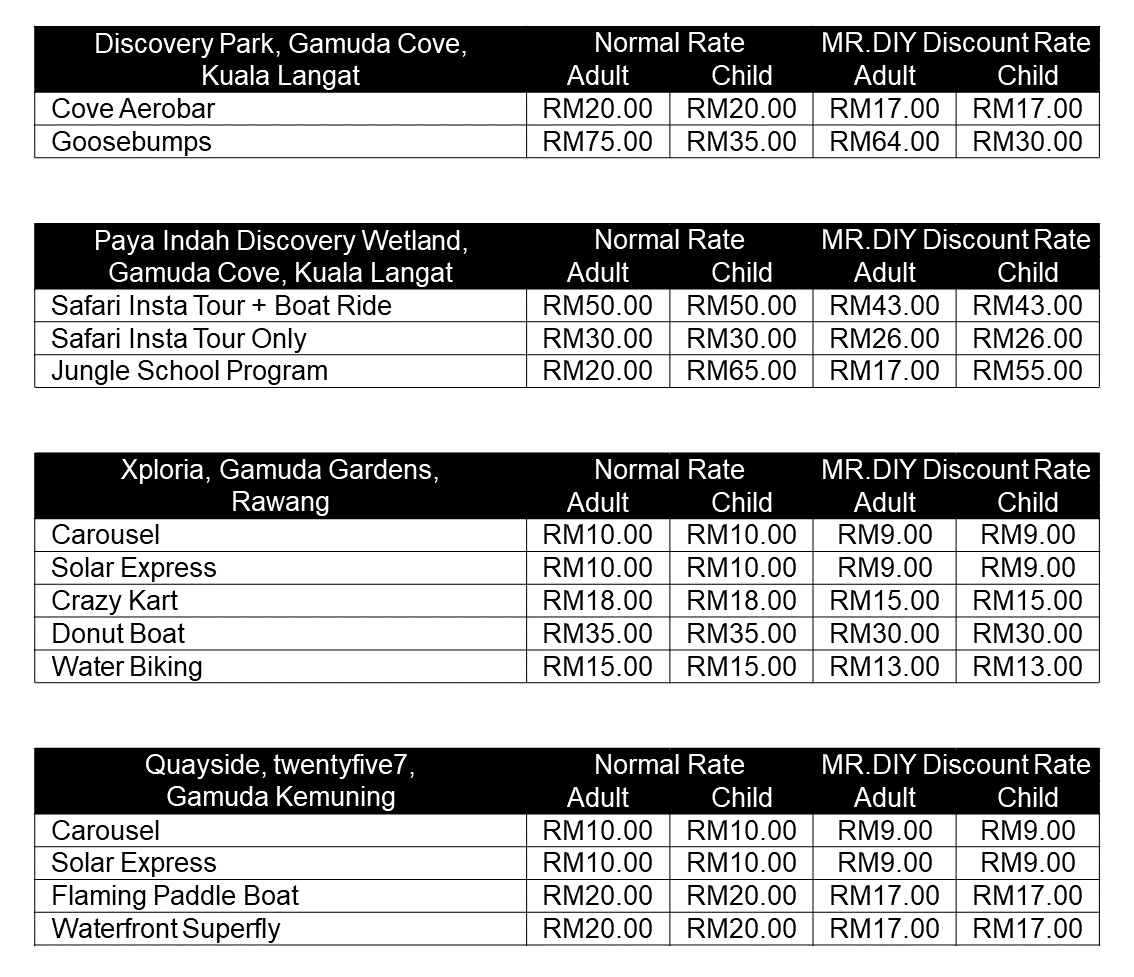 Terms & Conditions:
1. The 15% discount promotion on selected GL Play Attractions is applicable via both online platform & walk-in ticketing counters.
2. For walk-in purchase, original discount voucher must be shown at the ticketing counters to be entitled for the promotion.
3. For online purchase, promo code must be inserted to be entitled for the promotion.
4. Promotion is only applicable for the following selected GL Play Attractions :
- Cove Aerobar and Goosebumps Rope Course at Discovery Park, Gamuda Cove, Kuala Langat
- Safari Insta Tour + Boat Ride package, Safari Insta Tour and Jungle School Program at Paya Indah Discovery Wetlands, Gamuda Cove, Kuala Langat
- Carousel, Solar Express , Crazy Kart, Donut Boat and Water Biking at Xploria, Gamuda Gardens, Rawang
- Carousel, Solar Express, Flamingo Pedal Boat and Waterfront Superfly at Quayside, twentyfive7, Gamuda Kemuning
5. The promo code is applicable for up to a maximum of six (6) tickets only.
6. Rates will be applied accordingly. Ticket availability will be subject to park capacity.
7. Ticket(s) purchased is non-refundable, non-exchangeable for cash & not applicable with other ongoing offers, events and/or promotions.
8. No cancellation nor refund will be allowed upon confirmation of purchase.

9. Tickets are non-refundable due to inclement weather or in any other circumstances.

10. With the purchase and/or ticket(s), ticket holders are agreeable to the terms and conditions and general rules and regulations of Gamuda Land.

11. The Management reserves the right to vary and amend the terms and conditions at any point of time without prior notice.

12. Admission rates may be subjected to further taxes as and when implemented by the state government.

For operating hours and full terms & conditions of respective GL Play's Attractions, please visit www.glplay.com.my.


FAQ:
1. What is the minimum spend required to get that GWP 15%?
Spending minimum of RM40 at MR.DIY, RM30 at MR.DOLLAR, or RM50 at MR.TOY is required for this promotion.
2. How do I redeem the 15% discount voucher at GL Play Parks?
You can redeem the discount voucher on GL Play online platform by key in the discount code before checkout or at their walk-in ticketing counters. Please present the voucher(s) before you make a purchase.
3. What is the opening hours for GL Play Parks?
Open Monday, Wednesday - Sunday
(Closed on Tuesdays EXCEPT during Malaysia public holidays and school holidays)
Please refer to https://glplay.com.my/web/ for more detail on parks' opening hours.
4. What is validity for the redemption?
The ticket is valid until 31st December 2023.
5. If my purchase total is RM100 (MR.DIY), am I eligible for two (2) vouchers?
Yes. You are eligible to receive two (2) vouchers when your total purchase reaching RM80 at MR.DIY.
6. One voucher can redeem for 1 ticket or total bill?
The promo code/voucher is applicable for purchase of one attraction and up to maximum of six (6) tickets only.
7. Can the voucher redeem for child ticket?
Yes, applicable for child ticket as well. Please refer to the promo price table as above.
8. Which GL Play Parks are included in this promotion?
Promotion is only applicable for the following selected GL Play Attractions :
- Cove Aerobar and Goosebumps Rope Course at Discovery Park, Gamuda Cove, Kuala Langat
- Safari Insta Tour + Boat Ride package, Safari Insta Tour and Jungle School Program at Paya Indah Discovery Wetlands, Gamuda Cove, Kuala Langat
- Carousel, Solar Express , Crazy Kart, Donut Boat and Water Biking at Xploria, Gamuda Gardens, Rawang
- Carousel, Solar Express, Flamingo Pedal Boat and Waterfront Superfly at Quayside, twentyfive7, Gamuda Kemuning