Play MR.DIY's "Bounce & Bingo" Tournament to win RM25,000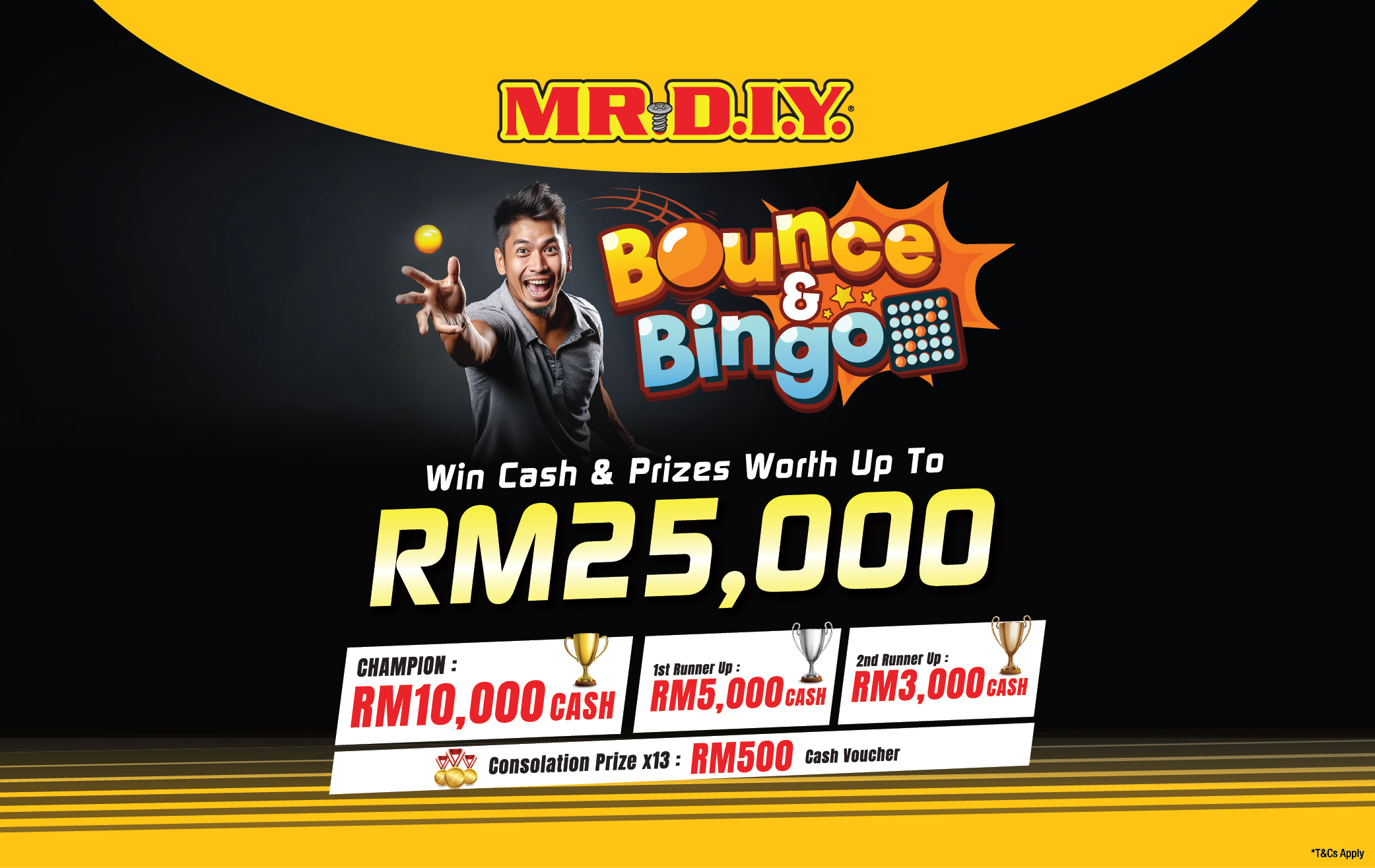 KUALA LUMPUR, 27 OCTOBER 2023 — Malaysians, are you ready to play some games? The nation's favourite home improvement retailer, MR D.I.Y. Group [M] Berhad [MR.DIY], is launching its first-ever game tournament - 'Bounce & Bingo' today, and everyone is invited.

The 'Bounce & Bingo' Game Tournament aims to encourage Malaysian families to team up and experience the joy and excitement of playing a simple and easy game whilst standing a chance to win lucrative prizes. This national-level game tournament offers attractive cash and prizes worth up to RM25,000 including cash, cash vouchers, trophies, and medals.

To play the game, all customers have to do is to go to MR.DIY PLUS stores near them and follow these simple steps:
Step 1: Form a two-player team.

Step 2: Take turns throwing the ping pong balls.

Step 3: Aim for a Bingo. The timing will be recorded once a bingo is formed.

Divided into two stages, Stage One of the tournament; the 'State Championship' is to search for 16 teams to represent each state (13 states and three federal territories). This game, which is open to all, calls for participants to compete within two days from 3 to 4 November 2023 at MR.DIY PLUS stores in Johor, Kedah, Kelantan and Terengganu and 4 to 5 November 2023 at MR.DIY PLUS stores in other states. In Stage Two; the Final Stage, will witness 16 winning teams from each state compete at the 'Grand Final' in MR.DIY PLUS, Mid Valley Megamall, Kuala Lumpur to become the champion of the MR.DIY's 'Bounce & Bingo' Game Tournament.

Speaking at the launch of the game tournament, MR.DIY Group's Head of Marketing, Alex Goh said, "As a homegrown retailer, we are constantly looking for ways to deliver value and promise of 'Always Low Prices' and make every single trip to MR.DIY stores more exciting for our customers. One of the ways we are doing that is by organising thrilling and enjoyable activities, such as games or contests, that everyone can join. And why not make it competitive by having a tournament?"

Goh said the game tournament is the first for the retailer and there will be more to come. "The 'Bingo & Bounce' is easy to play. It requires teamwork, skill, and of course, luck to win. At the end of the day, we want to make everyone happy. After all, it is all about having fun and creating stress-free Malaysians," added Goh.

In conjunction with the game tournament, MR.DIY PLUS stores in Johor, Kedah, Kelantan and Terengganu will offer training and practice opportunities for customers preparing for the game tournament from October 28 to November 2, 2023 while other states can visit nearby stores from 28 October to 3 November, and everyone is invited.

For more information on MR.DIY's Game Tournament: Bounce & Bingo, visit its website, mrdiy.com, and social media, Facebook, Instagram, and TikTok.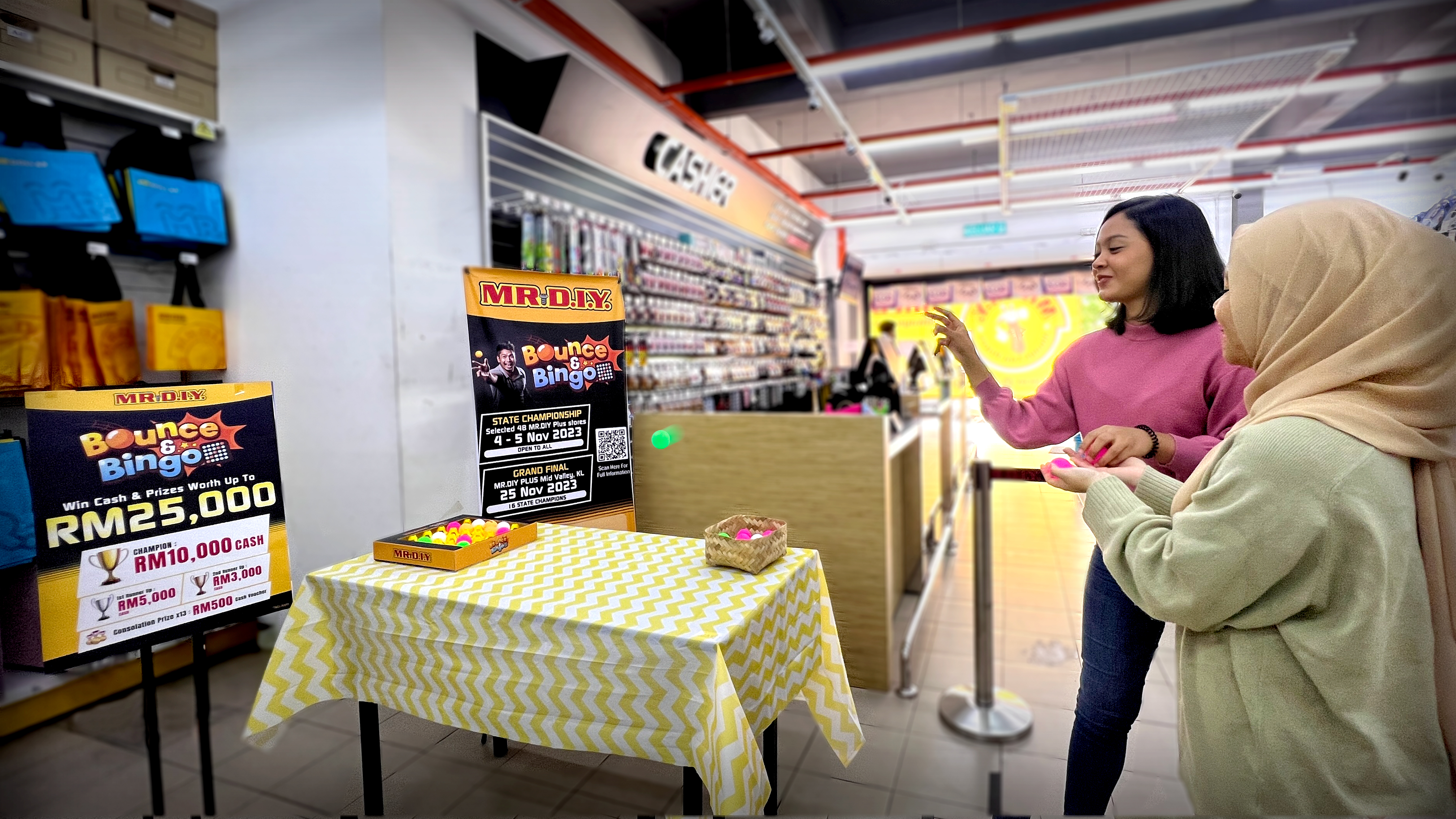 MR.DIY Game Tournament: 'Bounce & Bingo' will begin on 3 to 5 November at MR.DIY PLUS store nationwide. Everyone is welcome to join.