Frost & Sullivan accords MR D.I.Y. "Company of the Year" award for the 3rd year in a row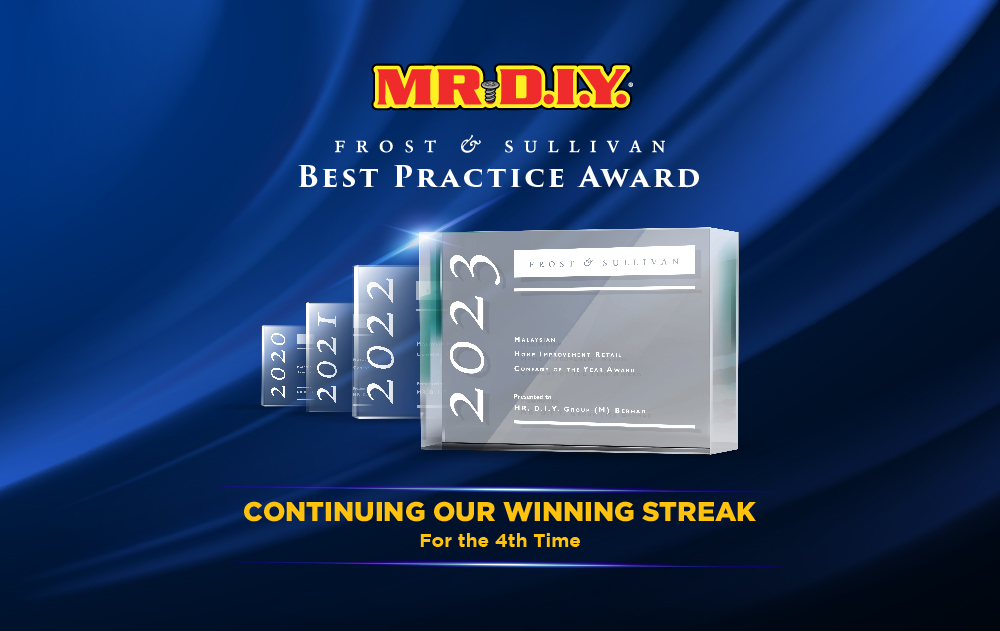 KUALA LUMPUR, 8 NOVEMBER 2023 - Fourth time's the charm! Malaysia's largest home improvement retailer, MR.DIY Group (M) Berhad or [MR.DIY] has done it again. The retailer has been awarded its fourth Frost & Sullivan Award and was named Frost & Sullivan's 2023 Best Practices Company of the Year in the Malaysia Home Improvement Retail Industry for three consecutive years, continuing its winning streak.
Frost & Sullivan, a research and consulting firm, adopts a thorough and rigorous selection process for nominees in every award category. The judging process involves a comprehensive assessment based on two critical aspects: visionary innovation and performance, as well as customer impact. Its most prestigious award, the Company of the Year, showcases visionary innovation, outstanding market performance, and exceptional customer service through detailed Best Practices Award analysis.
MR.DIY was first awarded Frost & Sullivan's Market Leadership Award in 2020. In 2021 and 2022, the retailer was accorded the Company of the Year Award. Commenting on the recognition, MR.DIY Group's Chief Executive Officer, Adrian Ong, MR.DIY Group's Head of Marketing, Alex Goh said, "We are thrilled to be accorded this award again by Frost & Sullivan. This recognition solidifies our commitment as a home improvement retailer for Malaysians as we continue to deliver convenience and our promise of 'Always Low Prices'. Our achievements today are the result of the continuous support and trust from our customers, business partners, and suppliers, as well as tireless efforts from 16,500+ of our employees. I dedicate this award to all of you. Thank you for being our rock!"
"We remain steadfast in staying relevant to create innovative retail experiences for Malaysians, so we can always deliver value and positively impact their lives," added Ong/Goh.
Commenting on the recognition for MR.DIY Group, Director of Frost & Sullivan, Narciso Podda, said "With its aggressive store expansion strategy and wide geographical reach, MR.DIY provides Malaysian households with a vast variety of home improvement products at affordable prices. The company's large-scale operations and promise of 'Always Low Prices' sets it ahead of the competition and creates stiff barriers to entry for new players in the industry."
This year, MR.DIY received a number of recognitions including, Putra Enterprising Brand of the Year 2022 from the Putra Brand Award for its outstanding achievements in developing a brand that has made strong inroads into the international market through product or service innovation, comprehensive marketing, and communications programmes, as well as through strong CSR commitments. The retailer was also recognised as UM's Excellent Corporate Partner 2022 in the Universiti Malaya Excellence Award 2022 for its contribution to the premier university, and Company of the Year [Home Improvement Retailer] in the Sustainability & CSR Malaysia Awards 2023 for the largest reach-outs for community, environment, and workplace initiatives.
Recently, MR.DIY's inflatable iron in its 'Kecil dan Besar MR.DIY Ada' initiative was recognised by the Malaysia Book of Records for being 'the largest inflatable iron in Malaysia'.


For more information about MR.DIY and its recognitions, visit
mrdiy.com
, or
Facebook
,
Instagram
, and
TikTok
.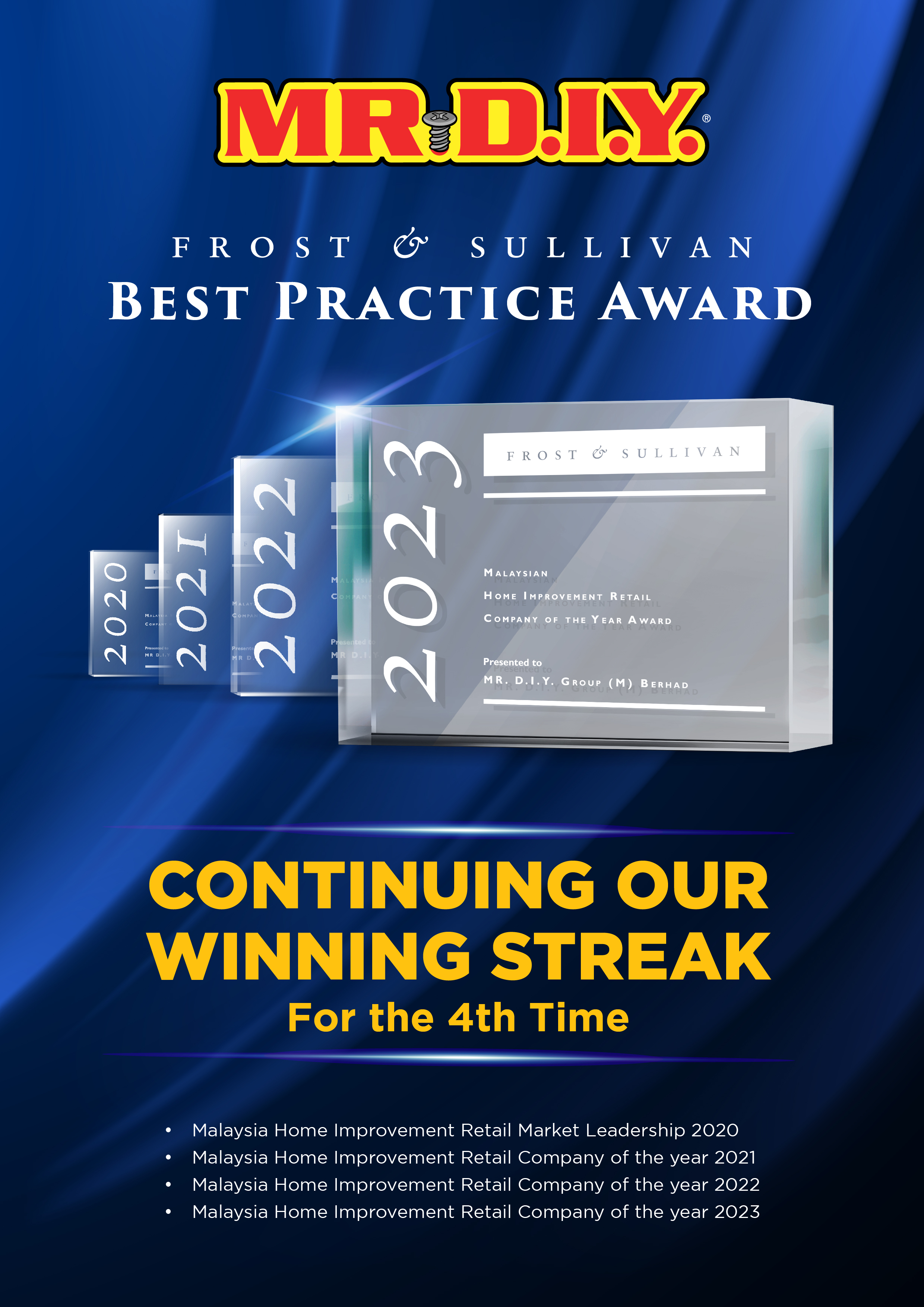 MR.DIY received its fourth Frost & Sullivan's award for the fourth time in a row. The retailer was named 2023 Company of the Year - Frost & Sullivan's Best Practices Award in Malaysia Home Improvement Retail Industry for the third year.