Special promotions in conjunction with MR.DIY's 18th anniversary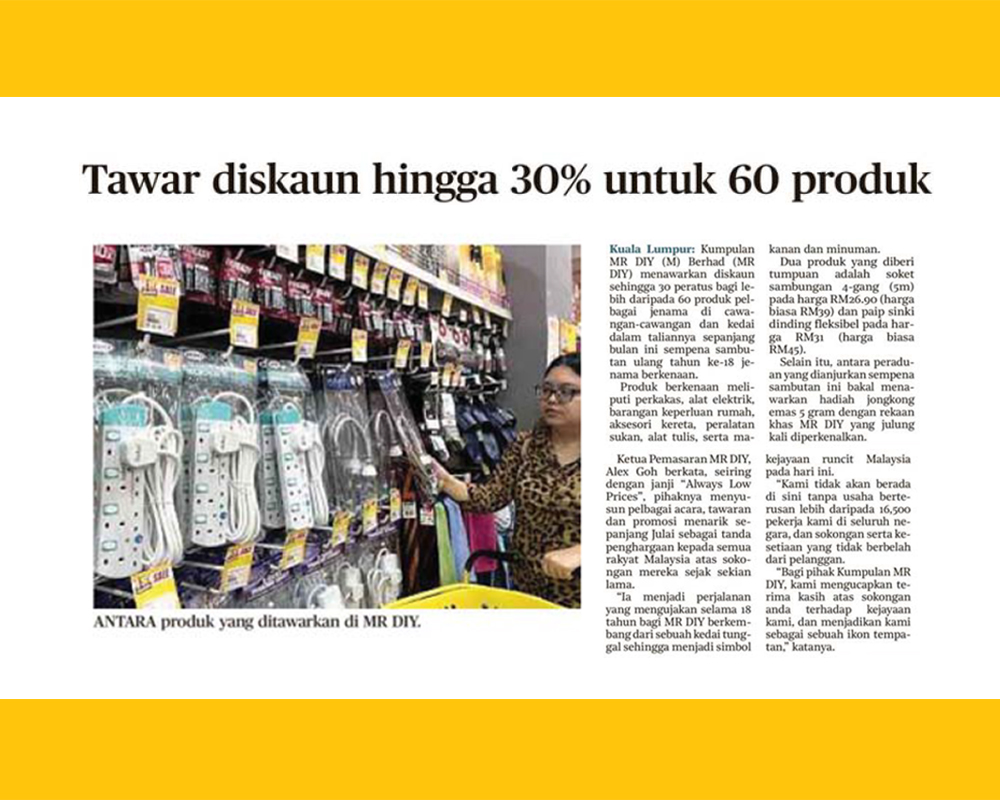 KUALA LUMPUR, 5 July 2023- Malaysia's largest home improvement retailer, MR.DIY Group (M) Berhad [MR.DIY], is celebrating its 18th anniversary today!



And true to its promise of "Always Low Prices", it has lined up a series of exciting events, offers and promotions all through the month of July as a way of saying "terima kasih" to all Malaysians for their support over the years.
Announcing the launch of the 18th anniversary festivities, MR.DIY's Head of Marketing, Alex Goh, said, "It has been an exciting 18-year journey for MR.DIY, growing from a single, standalone store to becoming a symbol of Malaysian retail success today. We wouldn't be where we are today without the untiring efforts of our 16,500+ employees nationwide, and the steady support and loyalty of our customers.
"On behalf of MR.DIY Group, thank you for contributing to our success, and for making us a homegrown icon. We commit to continue on our mission to be a valued retailer, delivering good quality everyday essential that Malaysians need every day, at convenient locations nationwide, at 'Always Low Prices," he added.
Goh went on to elaborate on the celebrations, saying that Group was offering up to 30 percent discounts on over 60 products across various brands in stores and online throughout July, including hardware, electrical, household, car accessories, sports, stationery, and food and beverages. Two highlighted products are the trailing socket 4-gang (5m) at RM26.90 (Normal price: RM39) and the flexible wall sink tap at RM31 (Normal price: RM45).
Additionally, Goh said that one of the contests featured 5-gram gold bar with a special MR.DIY design, which was a first for the brand.
In more good news, youth eligible for the RM200 eBelia Rahmah Campaign can utilise their eCash credit at MR.DIY, MR.DOLLAR, and MR.TOY stores and receive RM2 cashback when they spend a minimum of RM40 using Boost and TnG e-wallets.
MR.DIY began as a single standalone traditional hardware store on Jalan Tuanku Abdul Rahman, Kuala Lumpur. Today, MR.DIY has a network of over 1,100 stores, and is present in every state, from cities and market centres, right through to smaller towns and kampungs.
Over the years, MR.DIY added to its stable of brands:
MR.TOY, launched in 2019, is Malaysia's first homegrown toy store chain offering a wide range of good quality toys at affordable prices. There are more than 50 MR.TOY stores nationwide.

MR.DOLLAR, introduced in 2020, is a value-priced retailer providing affordable F&B products.

MR.DIY EXPRESS, launched in 2021, MR.DIY EXPRESS, is a scaled-down version of MR.DIY stores designed to cater to smaller markets and high-density neighborhoods.

MR.DIY PLUS, launched in 2022, is a superstore that combines MR.DIY, MR.TOY, and MR.DOLLAR under one roof.
In May 2023, MR.DIY launched its first EMTOP store, which is an international hardware brand trusted in 80 countries, offering a broad range of hardware products.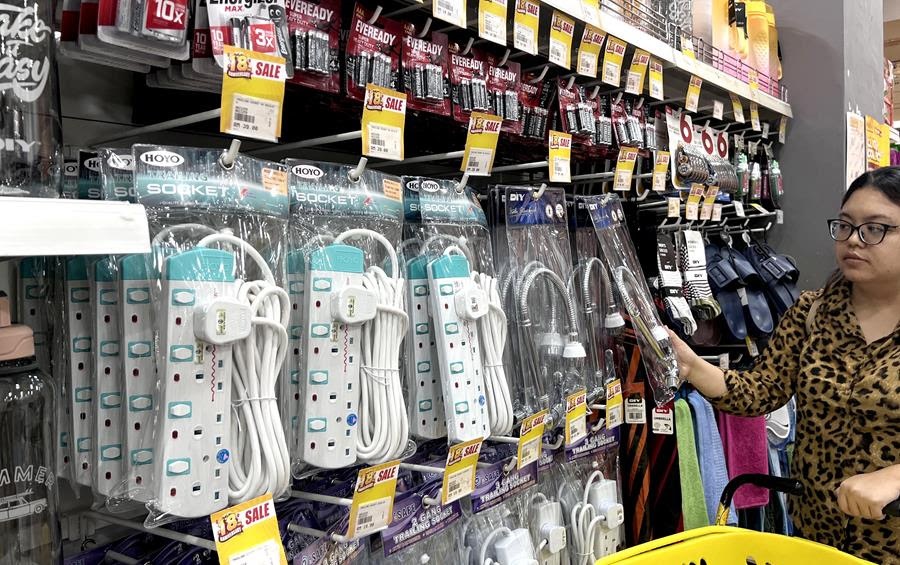 The trailing socket 4-gang (5m) at RM26.90 [Normal price: RM39], and a flexible wall sink tap at RM31 [Normal price: RM45] are some of the products on special offer in conjunction with MR.DIY's 18th anniversary.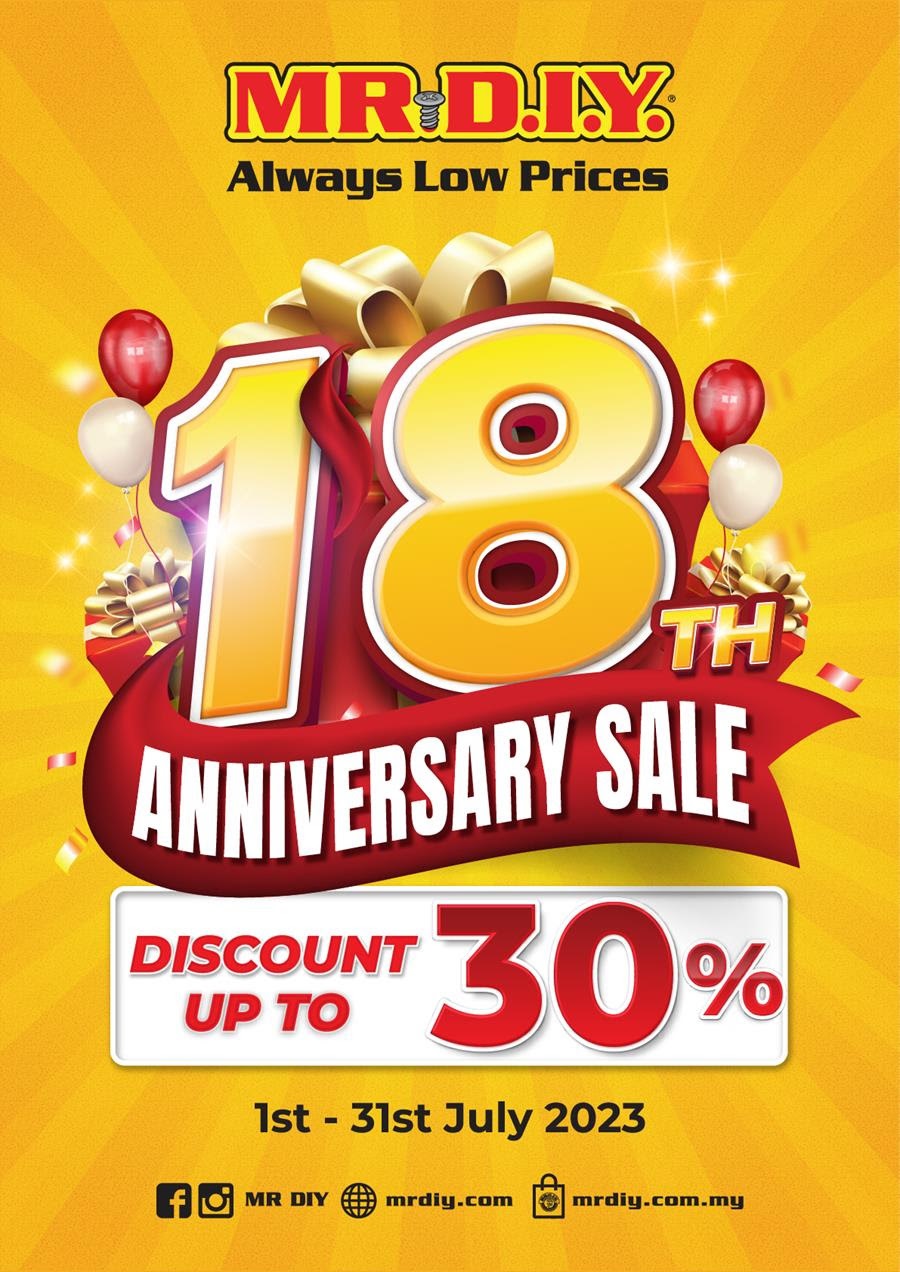 More than 60 products are on offer at up to 30% discounts this July at MR.DIY stores nationwide.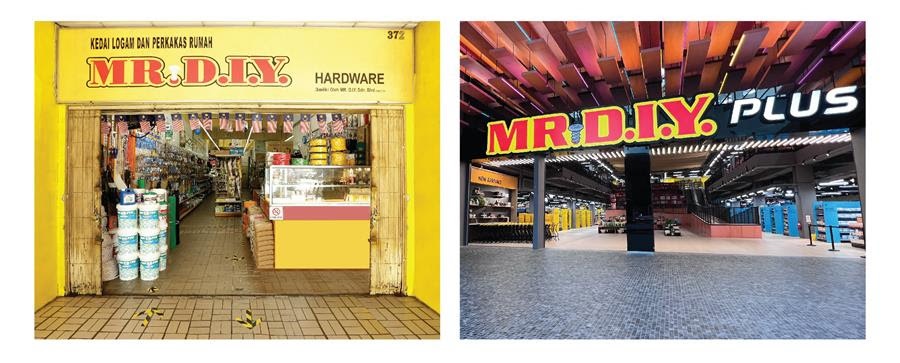 From a standalone traditional hardware store in Jalan Tuanku Abdul Rahman in Kuala Lumpur, MR.DIY now has a network of 1,100+ stores nationwide.