'The Journey No 1' takes first prize in MR.DIY Art Competition 2023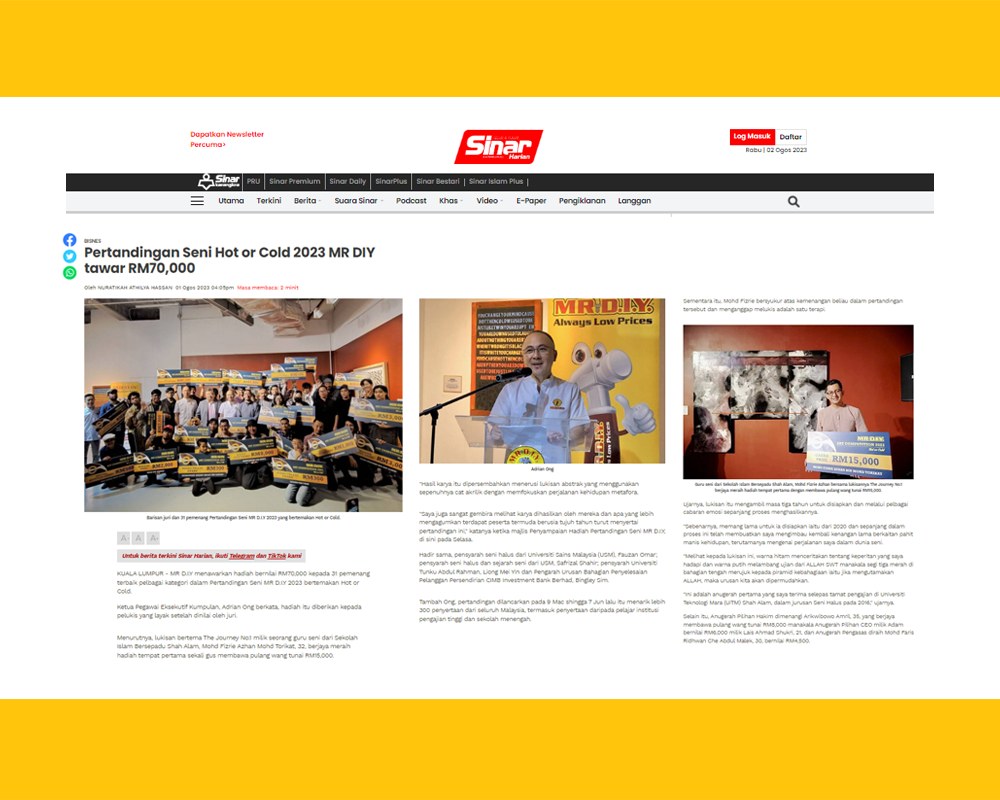 The abstract piece, done entirely in acrylic, takes observers on a metaphorical journey of life. It includes depictions of pain, disappointment, failure, and separation, incorporating the colours white, black, grey, and red. The combination of these colours and the use of the pouring technique created intriguing organic shapes - a winning outcome that certainly captured the attention of the competition judges, who awarded 32-year Mohd Fizrie the RM15,000 first prize.


Now in its second year, the competition which is organised by Malaysia's favourite home improvement retailer MR.DIY Group [M] Berhad, called on Malaysian artists to evoke and represent their thoughts, interpretations, forms, and creative expressions on the theme
"Hot or Cold"
, translating them onto canvas. The competition was launched on 9 March 2023, and ran until 7 June 2023, attracting more than 300 entries from all across Malaysia, including submissions from students of tertiary and secondary learning institutions.


The submissions were evaluated by a panel of renowned judges, which included acclaimed artists Fauzan Omar, Safrizal Sharir, and Leong Mei Yin, along with renowned art collector and critic Bingley Sim, who has served on multiple art competition panels.


At a prize-giving ceremony held today at Segaris Art Centre, Kuala Lumpur, MR.DIY awarded nearly RM70,000 worth of prizes to 31 deserving talents who were judged to be the best of the best. The retailer also introduced a new category - the
'Founder's Choice Award'
- as a tribute to MR.DIY's founder, Tan Yu Yeh, who has a deep appreciation of the arts.


Speaking at the prize-giving event,
MR.DIY Group Chief Executive Officer Adrian Ong
said, "When we launched this art competition in 2022, it was with the aim of cultivating an appreciation for Malaysian art and providing a sustainable platform for aspiring Malaysian artists to showcase their diverse talents to a wider audience. The competition last year attracted a rich breadth of work, and we were very pleasantly surprised to see an even greater show of top-notch work this year, including from our youngest participant - a very promising 7-year old artist.


"The judges certainly threw down the gauntlet by setting such an intriguing theme --
"Hot & Cold"
- for the competition this year, and I must commend all participants for rising to the challenge so beautifully. The extensive body of work and quality of ideas gave us the impetus to increase the value and number of prizes."


Ong thanked the judges and organising team and participants for setting a very high standard of organisation and judging, saying, "Our vision at MR.DIY is to add value to the lives of Malaysians, and you have certainly met it with the quality of this year's competition. I urge Malaysians, especially those in the Klang Valley, to make the most of the opportunity to view the work -- it is nothing short of stunning."


The winners' artwork will be displayed at Segaris Art Centre, Publika Kuala Lumpur from August 2 to August 4, 2023. Admission is free.


Here is a list of the MR.DIY Art Competition 2023 prize recipients:
Grand Prize

| RM15,000 in cash: Mohd Fizrie Azhan bin Mohd Torikat, 32, from Klang, Selangor, for 'The Journey No. 1'.

The Judges' Pick Award

| RM 8,000 in cash: Arikwibowo bin Amril, 35, from Gombak, Selangor, for "Falling Apart"

CEO's Choice Award

| RM6,000 in cash: Adam Lais bin Ahmad Shukri, 21, from Puncak Alam, Selangor, for 'Grow with Me'.

The 'Founder's Award'

| RM4,500 in cash: Mohd Faris Ridzwan bin Che Abdul Malek, 30, from Serendah, Selangor, for 'Pintu Keluar'.

The retailer also awarded recipients in each of the following categories: the

Creative Artist Award

, the

Spotlight Award

, the

MR.DIY

Outstanding Award

, the

People's Choice Award

, the

Special Mention Award

, and the

MR.DIY

Young Talent Award

.
The MR.DIY Art Competition is one of several corporate social impact initiatives organised on an ongoing basis by MR.DIY. The retailer was recently awarded the
Company of the Year [Home Improvement Retailer]
for the largest reach-outs for community, environment, and workplace initiatives in the Sustainability & CSR Malaysia Awards 2023 organised by CSR Malaysia.


For more information on MR.DIY's art competition and other social impact programmes, please visit its website, www.mrdiy.com, and its social media platforms, Facebook and Instagram.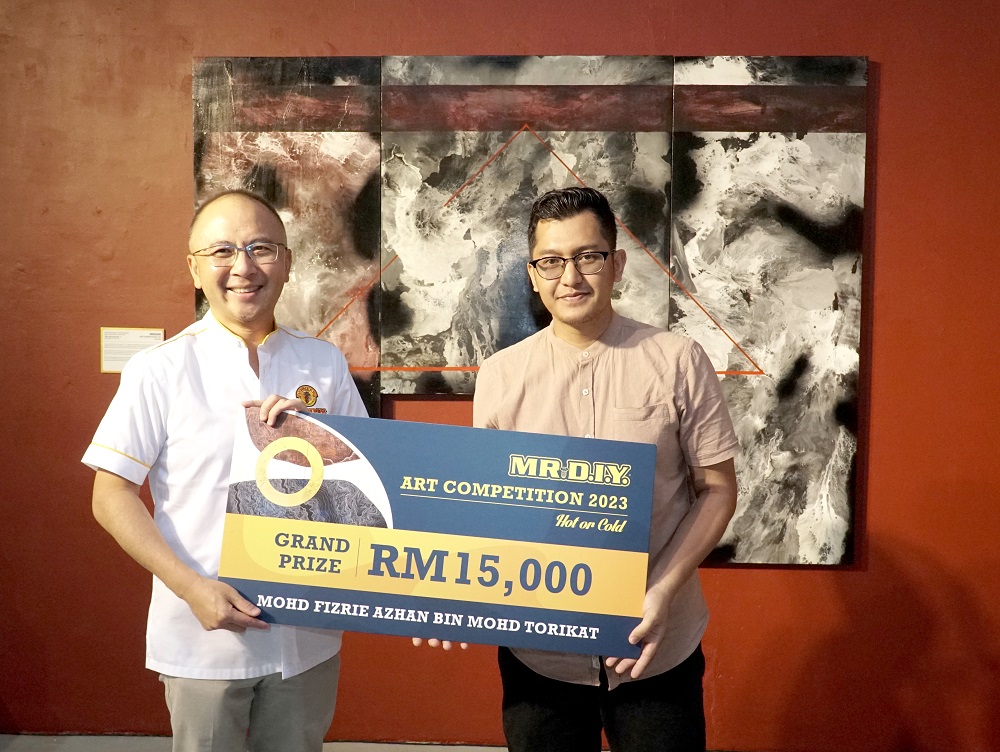 Adrian Ong, MR.DIY Group CEO (left), presenting the Grand Prize of RM 15,000 to Mohd Fizrie Azhan bin Mohd Torikat, winner of MR.DIY Art Competition 2023 (right).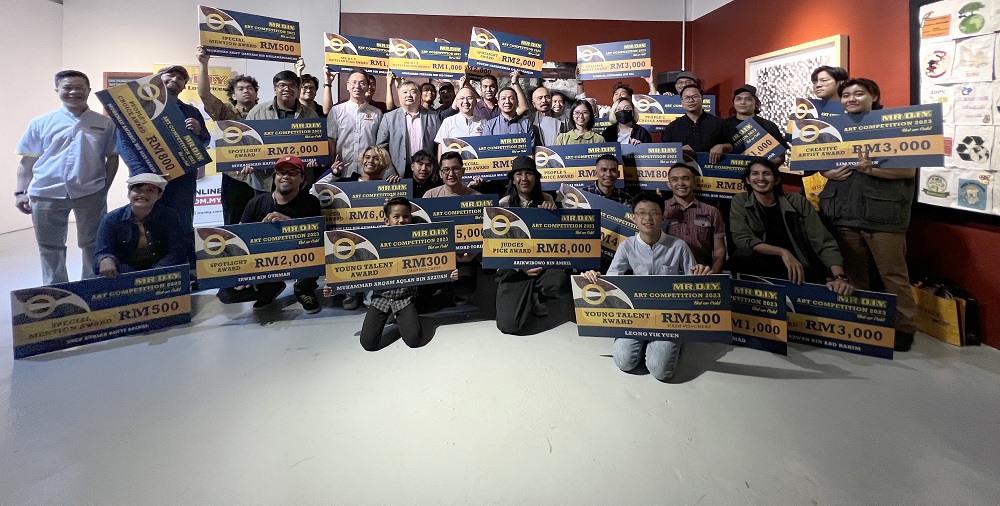 The winners of MR.DIY Art Competition 2023.